Export your emails
To export all your emails from Disroot Webmail our suggestion is to use an email client, like Thunderbird.
RainLoop
RainLoop the software we currently use, does not allow this task to be done in a practical way: emails must be exported one by one.
Log in at Disroot Webmail.
Select the mail you want to export.
On the right, click on the reply icon.
A list of options will open, select the last one: Download as .eml file.
Finally, you will be asked what you would like to do with file, save it on your device.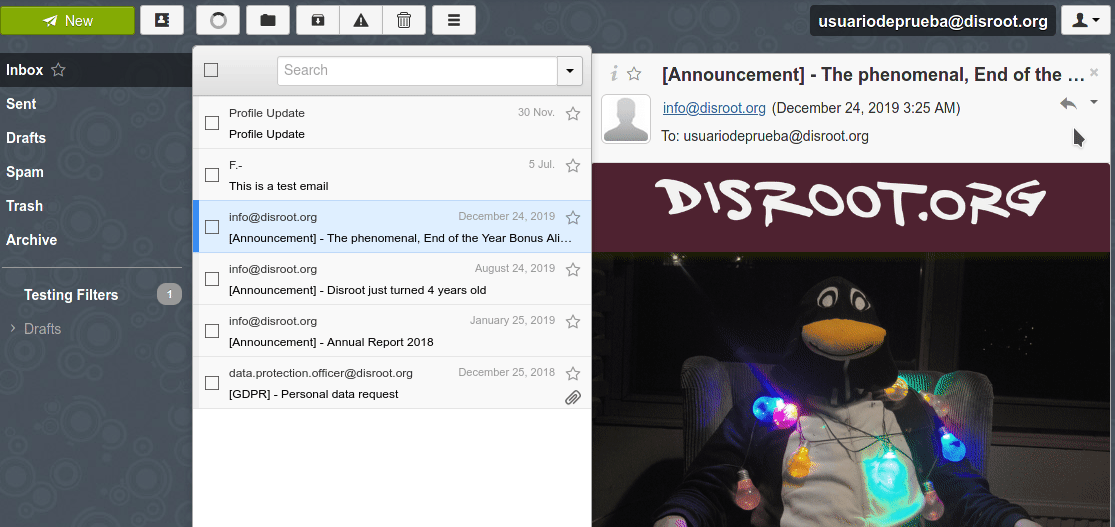 NOTICE: You should repeat this proccess with every single email you want to export.
---
Exporting emails from Thunderbird
Thunderbird does not come with tools for exporting and importing mail natively. For this it is necessary to install an add-on.
Both the add-on installation and the process of exporting the emails is quite simple.
Installing the ImportExportTools add-on
Run Thunderbird
Go to Tools at the Menu bar and select Add-ons
In the add-ons search field type export tools and then press enter
Find ImportExportTools NG, a small GPL software that add import/export tools.
Click on Add to Thunderbird
After installing and giving the necessary permissions for the add-on, you are now ready to back up all your emails.
This add-on adds a new menu item in the Tools and the context menues.
Exporting your emails
In Thunderbird, select a folder o directory you want to back up and right click. The import/export tool submenu displays a number of actions which you can peform to import or export various types of information into and out of Thunderbird.
You can export:
Individual folders and/or all folder messages (EML, HTML, PDF, CSV or plaintext)
Export as individual files or a single file
Export indexes as plain text or CSV
Export messages from search dialog
Export complete profiles or just the emails files
And import:
Mailbox files (Mbox files including the structures)
Profiles
EML and EMLX files
Individual or all directory files